Prototype…
Mosher sits at the western edge of Ste. Genevieve and is the region's center for lime production. It never had a depot and is simply a railroad station designation.
Geologically, this southeastern portion of Missouri lies over sedimentary rock built up from pre-historic oceans which deposited silt across the bedrock. Over millions years, this sediment compressed to form limestone. Hence, quarrying and processing of this natural resource is a major industry in the region.
Originally, three separate plants and quarries operated at Mosher producing hydrated lime and quicklime: Ste Genevieve Lime & Quarry, the Peerless White Lime Company and Bluff City Lime. All three were eventually absorbed into the Mississippi Lime Company and their vertical kilns converted into the more efficient rotary kilns.
The Mississippi Lime plant remains today as the largest shipper on the M-I with 33 tracks. A 1970's era image was captured by Vintage Aerial and shows the enormity of this facility.
Lime is used in various manufacturing and agricultural processes, including water purification by municipal water departments throughout the midwest. Crushed limestone was sold for glass making, poultry grit, asphalt filler, road stone, fertilizer, concrete aggregate and railroad ballast.
Sanborn maps are helpful in understanding how the railroad served the lime plants. The following images are taken from the 1929 maps.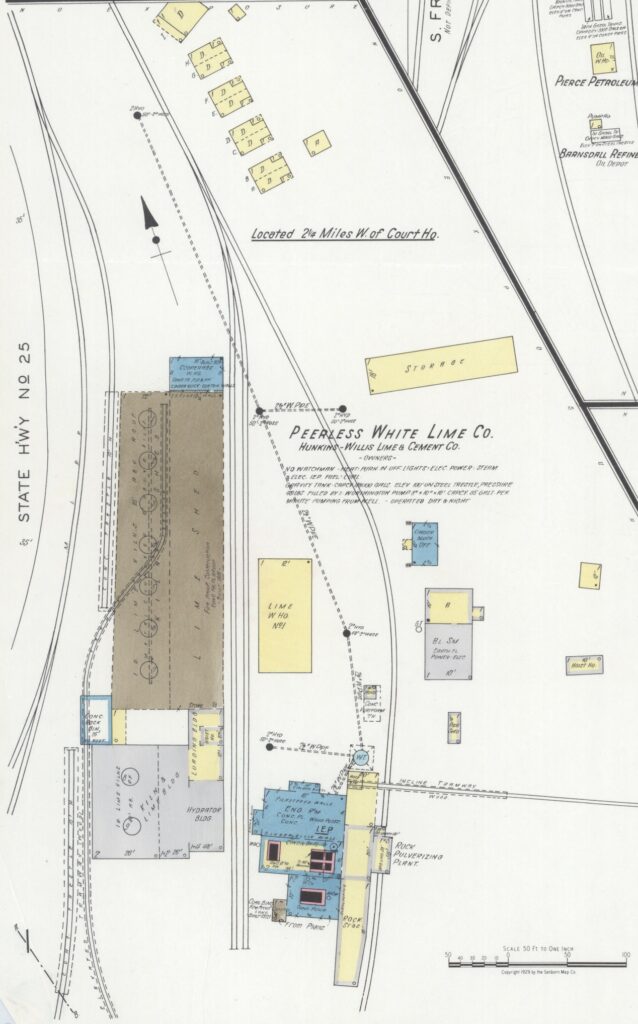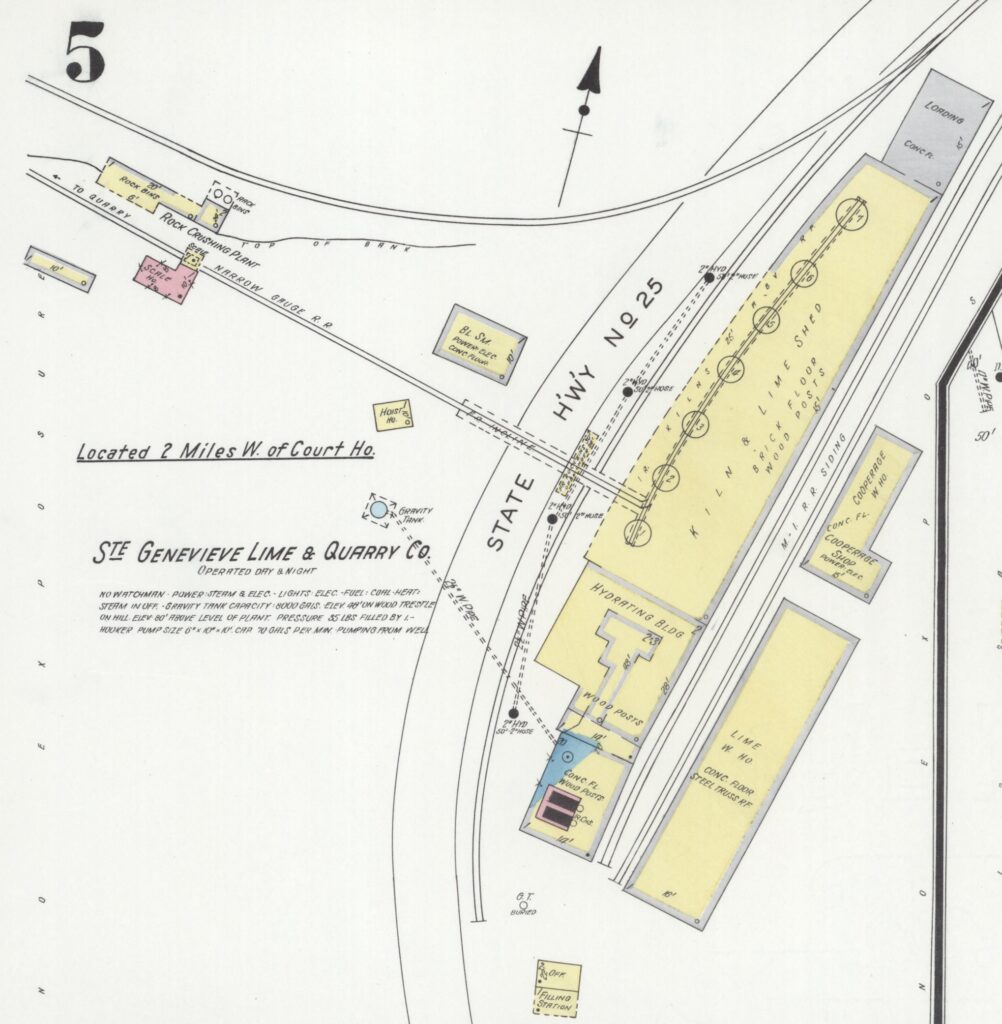 Layout adaptation…
Any lime plant has to be scaled down to fit available layout space. Hence, I elected to model the older Peerless White Lime Company with its vertical kilns. Inspiration from the 1929 Sanborn map provides the essence of operation with four spurs and a siding for run-around moves.
Outbound powdered lime is shipped in covered hoppers from the lime loading track, while crushed/pulverized limestone for agricultural use comes from the AgLime track. A warehouse receives shipments of bags, cardboard and building/repair supplies. The massive amounts of coal to fire the lime kilns originates in Pinckneyville, Illinois, and moves via the MoPac to the M-I.
As lime production is inherently messy and dusty, expect to see buildings, grounds and cars coated in a fine layer of white dust.
Peerless, along with the other plants, operated 3 shifts daily, so the plants demanded frequent service to keep the kilns burning and product shipping. They were typically switched twice daily, and during peak periods, even more often. Initially, lime was bagged and shipped in boxcars for protection from moisture. By 1942, covered hoppers began to move lime in bulk. Despite bulk shipping, boxcars are still occasionally used for customers desiring more convenient packaging. While most covered hoppers are owned by the M-I, an occasional foreign road will be pressed into service. Nearly all outbound loads will require weighing at the Middle Yard scales.