Prototype…
Mosher marks the location of the M-I's largest shipper, the Mississippi Lime Company. Mosher has never had a depot and is simply a station designation sitting on the western edge of Ste. Genevieve.
Geologically, southeast Missouri lies over sedimentary rock built up over eons of pre-historic oceans rising and falling and depositing silt across the bedrock. This sediment eventually compresses and forms limestone. Hence, quarrying and processing of this natural resource is a major industry in the region.
Originally, three separate plants and quarries operated at Mosher producing hydrated lime and quicklime: Ste Genevieve Lime & Quarry, the Peerless White Lime Company and Bluff City Lime. The three independents were eventually absorbed by Mississippi Lime and converted their vertical kilns to the more efficient rotary type.
The Mississippi Lime plant is huge with 33 tracks as of 1987. A modern era image is available from Vintage Aerial and provides perspective on the size of this facility.
Lime is used in various manufacturing and agricultural processes, including water purification by municipal water departments throughout the midwest. Crushed limestone was sold for glass making, poultry grit, asphalt filler, roadstone, concrete aggregate and railroad ballast.
Sanborn maps are helpful in understanding how the railroad served the lime plants. The following images are taken from the 1929 maps.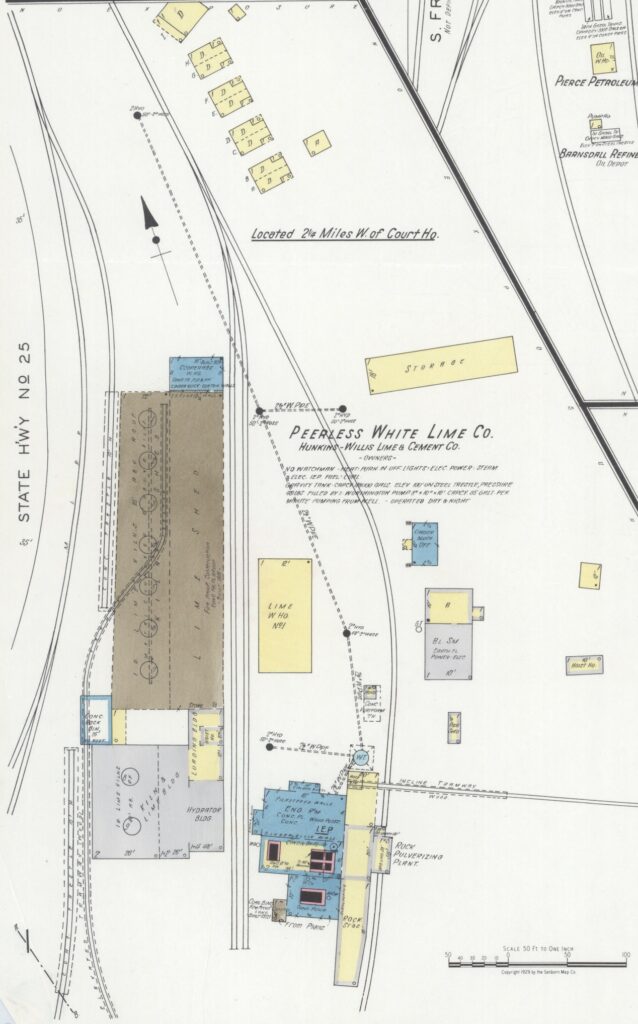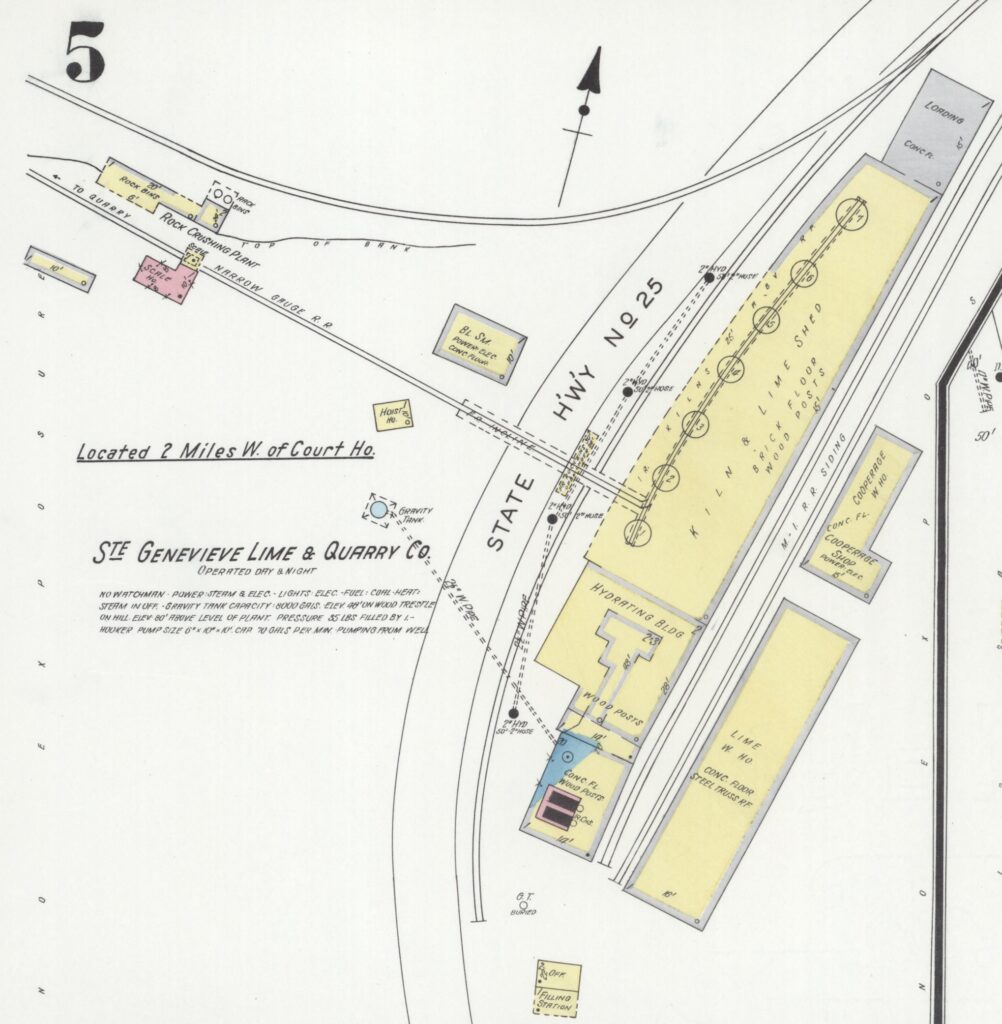 Layout adaptation…
It is not possible to model the Mississippi Lime plant in 1:48 scale and do it justice. Therefore, modeler's license is once again invoked and I have opted to represent Peerless White Lime Company on the layout. The track arrangement per the 1929 Sanborn map provides an interesting switching arrangement for crews. Despite modeling this smaller plant, it is reduced in scale to accommodate the available space. The essence of operation is captured with loading lime in railcars for shipment, delivering supplies to operate the plant, coal to fire its kilns (although by this era, they were using natural gas) and shipping of limestone for agricultural use. As lime production is inherently messy and dusty, expect to see buildings, grounds and cars coated in fine layer of white at this plant.
Typical traffic & shipments…
Lime producers have always constituted the principal shipment on the M-I and plants were typically switched twice daily. In the early years, lime was bagged and shipped in boxcars to protect it from moisture. By 1942, covered hoppers began to move lime in bulk. Despite bulk shipping, boxcars are still occasionally used for customers desiring more convenient packaging. Nearly all outbound loads will require weighing at Middle Yard.
The warehouse receives shipments of bags, cardboard and building/repair supplies. Massive amounts of coal are used to fire the lime kilns. All the coal originates in Illinois, typically from the Pinckneyville mines via the MoPac and M-I.